Teacher training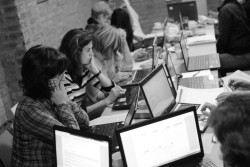 We know that faculties of education don't teach too much about the use of audio-visual materials. As a result, neither current nor future teachers have enough information about the benefits of new methods. We are striving to change that and we offer opportunities for the further training of working teachers and students of pedagogical disciplines.
Seminars
Do you not know how to use audio-visual materials in lessons? Do you want to learn more about the topics we devote ourselves to? Keep an eye out for our seminar offers and sign up. Seminars are free and are accredited by the Czech Ministry for Education, Youth, and Sports.
The seminar programme consists of:
screenings of documentary films;

becoming acquainted with the methodology of work with documentary films and with other audio-visual resources;

practical examples of interactive teaching methods and discussions with guests (experts on a given theme);

exchanging experiences gleaned while working with teaching materials;

applying the selected teaching method.
We train future teachers
We believe that methods of teaching using audio-visual resources should also be part of the training given to future teachers. That's why we offer seminars to faculties focused on education and, upon registration, we make our films and materials available to students preparing for mandatory teaching practice.
"In the field of academia, sampling the methodology of One World in Schools was like a breath of fresh air for me amidst all the frequent, traditional, one-way monologues. I also believe that it is a properly and systematically managed form of informal experiential learning, which targets not only the cognitive aspects of one's personality but also – particularly when it comes to a well-crafted and artistically successful film – targets the emotional and, ideally, the motivational and volitional aspects as well. It has considerable potential to positively influence critical thinking and attitudes, thereby also influencing people's behaviour and I plan to continue to be involved in this with relish."
Petra Doležalová, a student of special education and psychology

Seminars at universities
We offer two types of seminars to universities training future teachers that focus on the possibility of using documentary films in lessons:
One-day seminars can be general and also thematically focused (e.g. on media education, modern history, human rights, etc.) . Upon request, we can arrange a guest/expert on a given topic.

An elective, whole semester course on the use of audio-visual educational resources in global media education. Approximately 20 students attend the course per semester. During the course, students themselves try teaching audio-visual lessons of their own choosing and they are given an opportunity to have individual consultations with course lecturers.
The course lecturers are trained pedagogues who themselves have their own longstanding experience of using audio-visual materials in class.